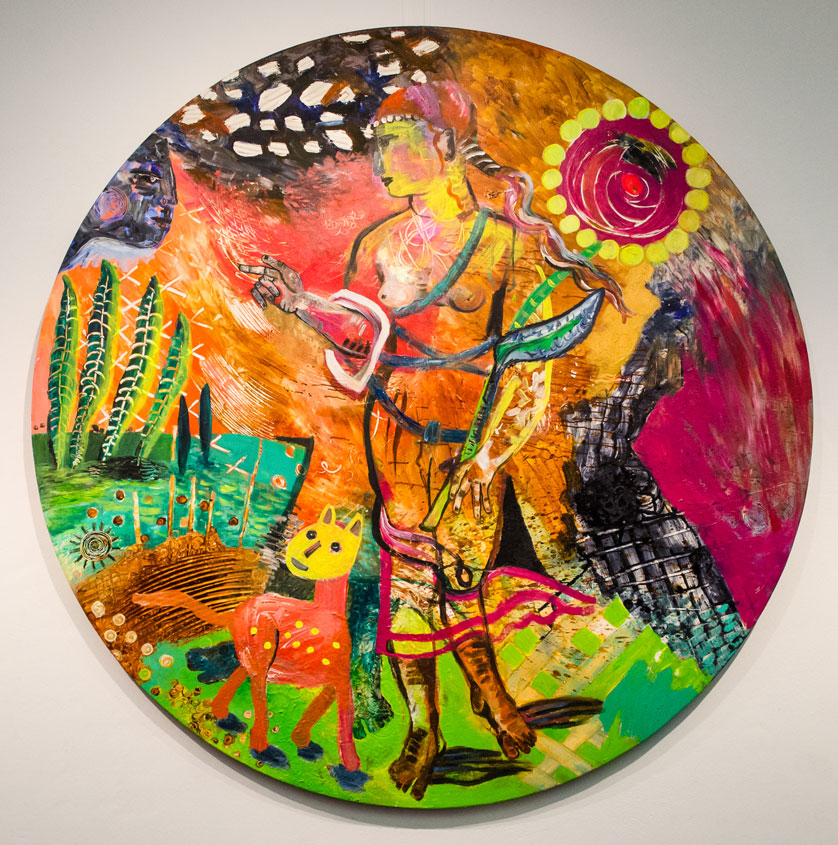 Monika Maria Schultes explores the depths of her own inner self. Her paintings contains the best of figurative tradition, a powerful expressive charge, a bit of outside art and a gesture controlled by the richness of form: anthropomorphic, but also zoomorphic and floral. Her paintings bring together the elements of mythology, psychology, literature and art history. These are passionate and humorous narratives about a woman, filled with symbols and associated attributes, confirms the importance of humor in encouraging positive emotions equivalent to the power of the magnificent colors in which the paintings abounds.
Monika Maria Schultes
Born in Augsburg, Germany, in 1955. She attended the College of Design in Augsburg in 1978, and the following year started traveling around the world. From 1981 to 1984 she studied Italian and art history, and from 1989 to 1995 she studied at the Academy of Fine Arts in Munich in the class of Professor G. Berger, graduating in painting and graphic design. Between 1996 and 1999 she was a postgraduate student of visual art and therapy at the same Academy in the class of Professor G. Schottenloher. In 1991 she received the town of Augsburg grant, followed by numerous studentships at home, as well as in Italy and the USA. Monika Maria Schultes has received many awards for her work. She is a member of the Association of Professional Painters BBK of the Bavarian region, a member of the Association of Augsburg Artists ´Die Ecke´, where she has been a board member since 2009, a member of the artists association ´Neue Münchner Künstlergenossenschaft´ and a member of DFKGT, a professional association for art and creative therapy. She has exhibited her work in numerous shows in Germany and abroad since 1987. She lives and works in her hometown of Augsburg. Her painting includes figurative dimensions, the gestural and the outsider art, it is a meeting place of different layers of mythology, psychology, literature and art history. Full of the accumulated knowledge and unavoidable, easily conveyed humor, her paintings are transformed into ideal vehicle for a fantastic journey of the eye, the heart and the mind.
Sanda Stanaćev Bajzek